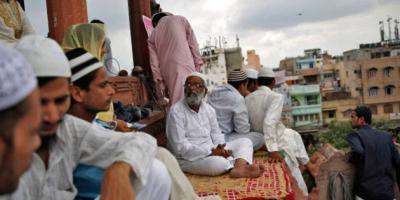 Ghazala Jamil's Accumulation by Segregation: Muslim Localities in Delhi looks at how urban governance works against working class Muslims.
In her recent book Margins of Citizenship, Anasua Chatterjee studied Kolkata Muslims and found that the communally defined neighbourhoods, identifiable on the basis of ethnicity or occupation, are enforced rather than discretionary. But she did not explore and expose the state and capitalist agencies perpetuating such segregation. Ghazala Jamil's book, Accumulation by Segregation: Muslim Localities in Delhi, takes this forward, through a new investigation into urban localities inhabited by Muslims. This academically informed, interrogative study on the position of Muslims in contemporary urban India, impacted by skewed urbanisation in the wake of a globalised neo-liberal economy raises pertinent questions about the way urban governance is perpetuating the segregation of (mainly working class) Muslims.
Thus far, such studies were confined essentially to viewing Muslims as slum-dwellers. The discipline of social anthropology of development is now trying to go beyond such explorations about India's subjugated urban populace. Deriving much from the comprehensive theories of urban development and discrimination, this is a study of five Muslim localities of Delhi. Grounded in development sociology and urban governance, it highlights the huge transformation that Delhi is going through, and the marginalisations that these change-processes have brought in. Jamil also identifies the research gaps in this emerging micro-discipline.
The five localities are: Old Delhi, including some parts of the walled city and some localities outside Shahjahanabad; Seelampur and other trans-Yamuna Muslim areas in the north-east of Delhi; Jamia Nagar in South Delhi; Nizamuddin, including Basti Hazrat Nizamuddin and Nizammudin West; and Taj Enclave also in north-east Delhi. The major, if not only, landmarks of Muslim re-settlements in Delhi are: 'San Sentalis' (literally "the year '47" or Partition), the Emergency of June 1975, and in the 1990s when craftspeople of whom Muslims form a disproportionately large share, began to lose their relevance with industrialisation under a liberalised economy. With the advent of the Hindutva movement, when pogroms became more frequent, such localities began to swell and became more pronounced, with their class heterogeneities.
These re-settlements redefined the urban spaces and social relationships in the everyday life. That these segregated re-settlements of Muslims have emerged out of discriminatory urban planning and governance is a factor waiting for academic attention. Ghazala has attempted to begin to fill this research gap. She looks at such localities as a mechanism for capitalist accumulation and a new kind of economic exploitation that Muslims are subjected to. She argues that profit is maximised through such populations of segregated localities, and once marked as 'Muslim', their capacity to bargain is minimised as their ability to move to other spaces is limited. Even elite Muslims begin to distance themselves from the marginalised co-religionists because academia, media, cinema and even the urban policy planners perpetuate pejorative stereotypes about such localities.
The state and its urban planners will not extend civic amenities, infrastructural facilities to such localities but the knowledge producers and opinion writers will not raise voices against such discriminatory perpetuation of segregated localities. While financial institutions and municipal institutions refuse to reach out and provide services, the disciplining agencies of the state penetrate deeply into such localities. This is how they are, for all practical purposes, turned into normative non-citizens, argues the author. She looks at state disciplining as an attempt at silencing 'even the elite Muslims who have begun to raise their voice against such stereotyping'. Academia, media (including Bollywood cinemas) and state-planners, all dish out and perpetuate the impression that Muslims are practicing self-segregation. This persuasive study by Jamil challenges this game of blaming the victim.
Despite segregation, the real estate business thrives in Delhi's Muslim localities. Jamia Nagar, especially, is experiencing intense construction activity, as much as life-building activities through education and skills. Undoubtedly, this is also a great opportunity for some circuits of capital to encourage Muslim investors to invest in a manner that maximises profits in the short run, and the segregated topography of the city remains undisturbed.
For instance, Nizamuddin is the oldest continued settlement of Muslims as a basti and probably receives more Muslim visitors through the year than any other Muslim locality in Delhi. The basti, similar to the walled city is a "museumised" space for curiosity, handed over by civic authority to the Agha Khan Trust for "preserving its heritage". The Taj Enclave and a few other such gated housing societies of affluent and elite Muslims are interesting spaces because they are microcosms that are fraught with all kinds of contradictory  processes that Muslims are subject to in the global urban. The residents of the Taj Enclave virtually eschew any contact with Seelampur on an everyday basis. In their erroneous self-perception, communal violence and discrimination is a thing of past and perpetrated only by illiterates. Either by internalising such rationalisation, or by making expedient articulations out of fear, elite Muslims harbour certain kind of illusions of not being prone to discriminations and vulnerabilities. She asserts, "Muslims have been silenced by various discursive practices and the disciplinary power of the state and a deeply discriminatory society, such that any meaningful speech that raises their real issues is denied to them".
The author moves towards an inconclusive conclusion on an optimistic note as to how these segregated settlements build their lives with community solidarities of credit and other such networks of trust and good faith. To strengthen such optimism, the author explores how these marginalised communities try to derive some solace from an idealised version of the city and its past. Such notions are reinforced by the media and academia when they demonstrate the heritage and culinary repositories of certain parts of Delhi. This, she says, is an instrument of counter-hegemony available to these otherwise pathetically subordinated populace.
While conducting her field work, Jamil found that every single participant stressed on the importance of education for Muslims, and that people are taking interest in creating mostly informal networks for jobs, business, education, housing, and much else.
The author hopes that such studies will give tongue to the language of the marginalised, and such studies to come, she hopes, will give rise to a new political consciousness that will bring change and will create new realities, and that it will help providing a political strategy in the movement for justice and equality. She believes that only a practice of electoral democracy and mere existence of difference and diversity, devoid of political and economic justice, ring hollow to the minorities. This is a call she wants to convey to the civil society groups and to those involved in urban planning and governance. She raises pertinent questions about the way we practice our liberalism. "Liberals assert that the right of a community not to be offended does not exist, but the right of an individual to offend must be unlimited. Entire slum localities are dubbed as illegal squatters and denied the right to shelter, but maverick individuals get unlimited media attention when they assert their right to gratify their lifestyle choices that are in congruence with liberal values". She then complains how, "Muslims, as a community, are pitted in direct opposition to the liberal, modern individual", and that "any collective effort by Muslims is doomed to be reduced to a farce or a tragedy".
Unfortunately, she has left out the question of caste markers and their expression among Muslims, nor has the question of urban women been dealt with. Thus, unlike most of academic works, the book under review points out the issues to be explored further in this hitherto neglected field of studies.
Much of the book is argued with the help of theories, thus, much of the book might be difficult for non-academic readers, and maybe even for some academics. For wider communication and readership, more lucid empirical illustrations should get precedence over jargonised theorisations. That is a tool the academics must find way if they really wish to be relevant among widest possible readership. The author rightly expects that if her book "sparks off fresh frames of reference …it would be worthwhile contribution to countering the prejudice, discrimination, and violence experienced by Muslims in India". This particular wish of the author would really be fulfilled adequately only with a lucid language of communication and articulation.
Mohammad Sajjad teaches Modern Indian History in the Centre of Advanced Study in History, Aligarh Muslim University, and has written Muslim Politics in Bihar: Changing Contours (Routledge, 2014).