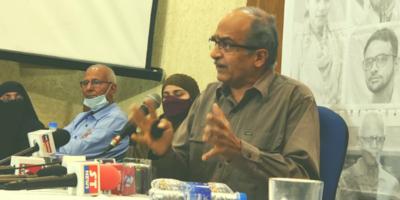 New Delhi: In the year since the Delhi riots, there has been a consistent effort from the law enforcement agencies to deny justice and fair compensation to victims, and to carry out a witch hunt campaign against lawyers, activists and journalists fighting on behalf of victims, speakers at the media conference organised by Concerned Citizens Collective opined.
The Concerned Citizens Collective (CCC) is a broad group of civil rights' societies that spoke to the media at length on Friday, February 26, on various issues pertaining to the Delhi riots and their aftermath. Among others, the conference saw Supreme Court lawyer Prashant Bhushan, senior journalist Hartosh Singh Bal, Nodeep Kaur's sister Rajvir Kaur, Khalid Saifi's wife Nargis Saifi, and Noorjahan, the mother of Athar Khan, charged with Unlawful Activities (Prevention) Act (UAPA) in attendance. The speakers touched upon several issues, including delayed justice and compensation to riot victims, implication of young activists under the UAPA, media's and civil society's role in the aftermath of the riots. 
Kicking off the conference, Banojyotsna Lahiri, a member of the CCC who moderated the conversation, said it has been a year since activists Ishrat Jahan and Khalid Saifi were arrested. 
"Delhi riots were devastating, but also devastating has been the witch-hunting that began afterwards. Khalid Saifi and Ishrat Jahan were implicated under UAPA when the police realised that all the other cases were falling flat. Currently languishing in jail, they were the first two victims of this witch-hunting," she said, adding that young people who had come out on the streets with a dream to fight for a better society were put behind bars.
Khalid Saifi's wife, Nargis Saifi, recounted the day after she saw him for the first time since he was arrested. "When I went to meet him, he was on a wheelchair. There was a plaster on his hands and legs, his beard had been pulled, there were marks on his face. What did he do to deserve that treatment at the hands of the police?"
She said that she had been in touch with him for some time and much later, when she asked him about that day, he told her that eight to nine policemen had beat him up with lathis, kicked him.
"When he asked them for a clean cloth so he could offer namaz, he was told 'Abhi ruk ja, abhi padhate hain tujhey namaz'.  Instead, they beat him up until he became almost unconscious. He told me that one policeman again pulled out his beard and handed him his hair and another said, let's piss on him. He was repeatedly told that he will be 'encountered.'
"Thankfully, the court intervened and the judge ordered for him to be shifted to Mandoli jail. From jail, he tells me that people are criminals but not communal," she said, questioning the need to charge imprison activists like Saifi with UAPA.  
'Questionable role of media'
Hartosh Singh Bal, the political editor of Caravan magazine, said that jails are healthier as a society than outside. "A criminal has a certain pattern of behaviour. Today, we are seeing this government repeating the same footprints over and over again: Bringing laws that do not have public approval, pushing people to accept it, and when people protest, criminalising the protesters," he said, adding that such attitude of the government was witnessed during the anti-Citizenship Amendment Act (CAA) protests, and now with regard to farmers' protests. 
Bal added that BJP has been spending so much money on its election campaigns that India has never seen such an imbalance between different political parties earlier.
Speaking about the media's role in coverage of the protests, both anti-CAA as well as against the farm laws, he said media has become equally communal and complicit in clamping down protests and muzzling dissent. 
"Indirect ownership of big private companies also has a role to play. The media projects protesters as Pakistani, terrorists, urban naxals etc…and these are the same labels that the BJP top leadership also use."
He also added that the police were also as much involved in the riots and were not simply bystanders. He also said that Caravan's reporters had been attacked, sexually assaulted, arrested for reportage that do not toe the government line.
"Media's role is to create a counter narrative, a pushback and resistance…," he noted.
Activist Nodeep Kaur arrested in connection with a protest in Haryana was released on bail Friday. Her sister, Rajvir Kaur, said that even though Nodeep obtained bail, the fight is far from over.
"Shiv Kumar is still in jail," she said. She also said that activists cannot be jailed for simply asking for the wages of the workers. "The same narrative is being used everywhere. There is just a slight difference in the language. People working to make the state better are being implicated. Today, I am not just speaking as Nodeep Kaur's sister, but as an aware citizen of the country against the injustice being done to several young activists including Nodeep," she said, adding that her sister will continue her movement once out on the bail.  
'Judiciary abdicated its responsibility'
Senior advocate Prashant Bhushan said that people who raise voice for others are repeatedly being implicated. "The UP police is the largest organised gang in the country. Same stands true for National Investigation Agency and Delhi police. They are all big, organised criminal gangs. They don't care for the rule of law," he said, citing the inaction of the police during the January 2020 attack on Jawaharlal Nehru University and the December 2019 attack on Jamia students. 
Talking about the role of judiciary's role, he said, "Courts have an essential role to play during such times. It has the duty to take suo motu whenever it sees any kind of injustice taking place. Secondly, independent special investigation teams (SITs) must be formed to investigate these matters."
He also demanded that police officers responsible for implicating activists without evidence must be punished. "The country is going through an extreme fascist attack. But despite this, so many are standing. Journalists, activists, students even after so much repression. This fascist age will end soon," he said, adding that a first information report (FIR) must be filed against BJP's Kapil Mishra for inciting violence before the riots.
Athar Khan has been in jail under UAPA for over eight months. His mother, Noorjahan said, "He is in jail for 'running' a CAA protest. He was initially asked by the crime branch to talk, which he did. If he were guilty, he wouldn't have himself gone to talk to them. I remember I used to worry about him getting arrested while the protests were taking place.
He used to respond by telling me that we are fighting for equality, for justice and that we should not be worried. He also used to tell me that he and others will never do anything that the constitution doesn't allow."
Talking about CAA, she said, "In 1947, we chose to stay in India for a reason. We don't need to prove our citizenship. Please don't neglect the sacrifices made by my son and others for this cause. I am a proud Indian Muslim, and I am proud to be Athar's mother." 
'Shaheen Bagh women silenced' 
Lawyer Shreya Kapoor presented a report observing that the state action had scared the women of Shaheen Bagh so much that they were scared of coming out to protest again.
"The same women who led the largest peaceful protest, the same women who came out of their cocoon and bust prejudices attached to their religious identities, are now apprehensive," she noted.
She added that there is a sense of fear among Muslims post riots and arrests by the police. "The Delhi police acted shamelessly, filed fake FIRs against victims. Media coverage has been biased. Ground reality is different from what they are showing on TV. Neighbours have now turned against each other. Minor compensation has been given to victims. Important to note is that compensation is in no way a means to justice. The Modi government, with the help of goons, media, Delhi police, have made victims into perpetrators…"