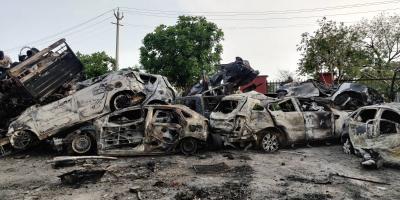 New Delhi: On Monday, July 31, communal violence erupted in the Nuh district of Haryana during a Hindutva procession by the Vishva Hindu Parishad (VHP) and the Bajrang Dal. By the evening, fresh incidents of communal violence were reported from Gurugram and Sohna.
As of now, five people have lost their lives in the communal clashes, dozens have been injured, and property worth crores has been destroyed by angry mobs.
The immediate trigger for the violence is said to have been a video featuring the infamous cow vigilante Monu Manesar.
Manesar, who is notorious for his videos of anti-Muslim violence and is wanted for murder, had appealed to his followers to join the Hindutva rally in the Mewat district of Haryana.
This rally was a "Brajmandal" yatra. Such yatras have been organised by VHP leaders at a large-scale since 2021.
Manesar had claimed that he'd be personally present in the rally.
While he has a large number of followers on social media and in Haryana, he is an unpopular name in Mewat due to his videos of vigilantism.
The district Mewat was renamed Nuh in 2016.
What happened before and after the communal clashes
As soon as Manesar's video went viral, some Mewati Muslim youngsters responded by posting their own videos, warning the administration not to allow him in Mewat and demanding for his arrest.
A group of Mewati youngsters, whose video is being widely shared, had given a call for protest against Manesar.
In their social media posts and meetings with the administration, civil society members also alerted the government to take cognisance of the build-up, but the Haryana administration did not respond.
After the riots, deputy chief minister Dushyant Chautala alleged that the procession's participants did not fully inform the authorities of their yatra. Haryana home minister Anij Vij alleged that the violence was premeditated.
BJP leader and member of parliament from Gurgaon, Rao Inderjit Singh, noted that the participants in the procession acted provocatively by carrying swords and lathis.
"Who gave weapons to them for the procession? … This is wrong. A provocation took place from this side too. I am not saying there was no provocation from the other side," Singh told the Indian Express.
In February this year, the charred skeletons of two Muslim men were discovered near Loharu police station in Haryana's Bhiwani district.
The duo was identified as Nasir and Junaid, and Manesar's gang was accused of the killings.
Just a few days before the duo's murder, Manesar was linked to yet another mysterious death – that of mechanic Waris Khan, whose family accused Manesar of plotting the murder.
In April 2022, at least four videos of mobs attacking and torturing Muslim men in Haryana went viral. They were shared on social media by Manesar and the Jamia shooter Rambhakt Gopal. In response to the viral videos, Hindutva leaders organised a mahapanchayat.
Viral videos
Locals also blame Hindutva leader Bittu Bajrangi for his provocative video inciting Muslims before the yatra. In the video, Bajrangi said that he's visiting his sasural (Hindi for in-laws' home, here a reference to Mewat) and people should be ready to welcome him. In the background, his supporters are heard saying "jijaji aa rahe hain" (Hindi for 'brother-in-law is coming').
Last month, Bajrangi was booked for 'abusing the Muslim community' and allegedly flashing weapons.
He had said at a mahapanchayat in Haryana in 2021 that "we are with the brothers who killed Asif and sent him to his 72 virgins."
Another viral video claimed to be from Mewat is that of a Hindu man and his family, who were supposedly attacked by Muslims.
In the video, the man claims that his one-year-old child and family were trapped when a mob attacked them. He further asks people to stop Muslims during the Muharram taziya (a kind of procession). Additionally, he also claims that he heard that a lady was caught in a burning bus.
The Wire was unable to verify the claims made in the viral video, however, the man could be seen in several vox-pops, and hate and disinformation videos targeting Muslims.
In one of the viral videos, this man – who calls himself Vijay Hindu – offered Rs 1 lakh as aid to the killers of Atiq Ahmed. He said he was happy that people are chanting 'Jai Shri Ram' now to suppress criminals.
Another viral video, which was made during the riots, shows Dinesh Bharti of the Bharat Mata Vahini – which led anti-namaz protests in Gurugram – waving a machete and inciting people to surround Mewat from all sides.
Surendra Jain, the VHP's joint secretary, was spotted at the Nalhar Mahadev Mandir shortly before the outbreak of violence in Nuh. In his purported speech that surfaced on social media and was shared live on Facebook by one Neeraj Vats, he said that Mewat is Krishna's homeland.
Later, he targeted the Muslim community, saying, "We need to change Mewat's character."
"It is not the land of cow killers, Hindu murders, [Inter-Services Intelligence] agents, Rohingya and Bangladeshi infiltrators, or those involved in conversions," he can be heard saying in the video.
Anti-Muslim hate
In the course of my reporting from Mewat, since the murder of gym trainer Asif Khan Mewati in May 2021, and the subsequent anti-Muslim mahapanchayats in the area, the discontent against anti-Muslim hate mongering and violence has been growing in the region.
While communal tensions in the areas have been on the rise for the past two years, the protests against cow vigilantism have only escalated after the Nasir and Junaid murder case, especially in the Nuh district.
Muslims in the area, including families of the victims of mob lynchings by cow vigilantes, have been demanding the Khattar administration to stop violent raids in Mewat by the likes of Manesar.
An old video of a speech by Congress MLA Maman Khan made in the Haryana assembly right after the murder of Nasir and Junaid is being circulated by the BJP supporters, who claim it to be the trigger for the Nuh violence.
Khan had threatened to smash Monu like an onion if he raided Mewat again.
A Pakistani Youtuber called Ahsan Mewati made an inflammatory video provoking violence and abusing Hindus. In the video, he said, "Brothers, this Monu Manesar is coming to Mewat. By God, Kill or die. If you kill it's good but if you die you get a place in heaven. It is martyrdom and a quest for justice… I want to tell Hindus if you're protectors of religion then protect it but don't get your ** *** to provoke Mewatis." Right-wing propaganda website OpIndia presented him as a Mewati from Haryana who "seems to be in love with Pakistan".