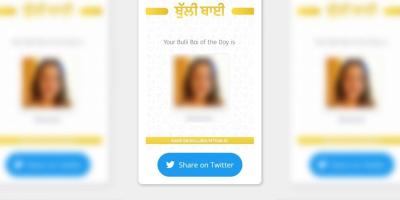 Listen to this article:
On January 1, 2022, while the rest of India was either forwarding New Year greetings to friends and family on WhatsApp groups or recuperating from the celebrations of the previous day, Muslim women in India were battling with themselves and with the world outside on how to address the threat, trauma and indignity that they had been targeted with once again.
'Bulli Bai', an app hosted on Github, was offering us, Indian Muslim women, on auction. Many women, including myself, opened their social media accounts to their photos with the phrase, 'Your Bulli Bai of the day is…"
For those who may not be aware, 'Bulli/Sulli' are Islamophobic slurs referring to Muslim women, alterations of the term 'Mulli' often used by the right wing to troll Muslim women. In 2021, a similar app called 'Sulli Deals', which was also hosted on Github, had listed hundreds of Muslim women for "auction" with their photographs doctored and sourced without their permission. For many women, they were listed in the first app as well as the 'Bulli Bai' app.
I had a nervous breakdown when the severity of the situation sunk in. As a Muslim woman in India, I am not new to Islamophobia or anti-Muslim narratives and hate. From outrightly being denied houses on rent because of my religious identity to workplace Islamophobia and hate, I have had my fair share. But this was a new low.
As I lay on my bed for hours, staring at the ceiling, thoughts of how this targeted trolling would affect me and my Muslim sisters and cause a threat to our physical safety kept looming in my mind. I started hearing voices of the calls for a genocide of Muslims at the Dharam Sansad. Images of cartoons depicting Muslims as spreaders of COVID-19 in India, of the Eidgah in Delhi with scores of displaced Muslim women and children from the Delhi pogrom of 2021, were floating in front of me. I had a meltdown like I had never had before.
For the first time since I joined social media, I deactivated my Twitter account and cut all ties with the outside world. Messages of solidarity were pouring in from everywhere, but these were from the 'fringe' who care.
Media reports and news videos clearly show how hundreds of people gather at rallies to take oaths on economic boycott of Muslims, to stop Muslims from offering their Friday prayers in the open etc. It is also important to remember that Muslim women bear an extra brunt when it comes to being targeted.
Fernand de Varennes, the Special Rapporteur to the United Nations on the Rights of minorities, acknowledged this special vulnerability faced by vocal minority women. This past week, he took to Twitter and said that the international community was closely watching how trends like #bullibai and its earlier version #sullideals, which aim to humiliate and threaten minority Muslim women in India, risk being normalised.
"They involve harassment and hate speech targeting minority women who speak out and need immediate and effective condemnation and action. As an independent expert for the United Nations, it is clear to me that what is at stake are our fundamental principles of equal dignity for all. Indian women, specially those from minority communities who continue to speak out for their rights and hence are targeted, are particularly vulnerable because of their identities. They should be unequivocally supported and any violence against them, online or offline, taken action against by concerned authorities immediately," he said.
Sadaf Jafar, political and social activist and National Coordinator of the All India Mahila Congress, was also a target of this online hate campaign. For her, the message from those involved was clear – to silence Muslim women and target the community. And with 'Bulli Bai' app specifically (with the use of Gurmukhi), "they wanted to target the Muslim-Sikh unity which became very evident during the Shaheen Bagh movement and the anti-farm laws movement," she said.
The torch bearers of the sit-in anti-Citizenship Amendment Act dharnas were Muslim women and this was an attempt to try humiliate, emotionally, morally and threaten vocal women, she added. "There were many women on the list from the Muslim community who were not politically vocal but had fought all forms of patriarchy and made a name for themselves with hard work and years of perseverance," she said. Jafar added that it worried her to see them there and the effect it may have on their social mobility due to fear and the security threat.
"We are not spared because we have party affiliations, we do not enjoy any privilege. They hate all voices of dissent," she added.
Entrepreneur and activist Amina Kauser, was the only Indian American Muslim woman also listed on the app. "The sheer humiliation of being put up for 'sale' and called a 'Bulli Bai' is hard to describe in words", Kausar said.
According to her, she was targeted because of her identity as a Muslim woman vocal on social media and critical of the present Indian government's policies against Muslim citizens. Kauser, however, used the same social media and other platforms to voice her opinions on being targeted by such apps. "In raising this issue wherever possible, I am trying to defeat the goal of the creators of this app – that of silencing me," she said.
It is not easy today to live a 'normal' life without fear, hate, threat or discrimination in one form or another for those belonging to marginalised communities in India – be it the Dalit or Adivasi community, Muslims, Christians or those from the LGBTQIA+ community.
But we have learnt to fight for our rights. The Indian constitution is our biggest strength, and our demands for equality and dignity begin and end with it. Muslim women will continue to live with dignity in their country. We will continue to speak for ourselves and for justice, demanding our fundamental rights as equal citizens of India.
Mariya Salim is a women's rights activist.