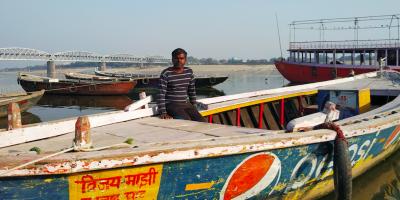 Varanasi: Prahlad Ghat is deserted except for a small group of men in shawls, playing cards on a usual winter weekday afternoon.
Pintu Sahni, a boatman, squats on the stairs that lead to the Ganga. Every time he sees a person approaching the Ghat – one of the 84 in Varanasi – he stands up and walks up to them.
"Madam, would you like to go for a boat ride?" he asks a woman. "Sir, please come, I will take you around in my boat," he tells a man. He follows the tourists for a while and leaves only when they ask him to or turn their heads away.
Now 35, Sahni has been ferrying people on boats in Varanasi since he was 10 years old. An occupation that he grew up enjoying has now turned into a 'headache' for him.
Sahni, who used to make around Rs 500 a day before the COVID-19 lockdown was imposed, now returns home empty-handed on most days. He was entirely out of work for seven straight months. During that time, his savings dried up and he had to take out a personal loan to support his family of six. Sahni's three brothers, too, operate the same boat.
"Business has been so poor that I don't know when I will be able to repay this loan," he says. "Two years ago, I had enrolled my children in a private school with the hope that they will get quality education but after COVID-19 struck, I was no longer able to afford their school fees. So, I got them enrolled in a government school this January. The fees are much lesser," he adds.
Sahni is one among many Mallahs in Varanasi who are struggling to make ends meet. Even as business has returned to normalcy in most sectors, the community was hit hard by the lack of a security net and now struggle to start over – both emotionally and financially.
Changed times
Listed under the Scheduled Caste category by Yogi Adityanath's government in 2019, 'Mallahs' are a Dalit group comprising several subcastes, such as Nishads, Binds, Manjhis, Kewats, Kashyaps, Turhas, and Majhwas. As anthropologist William Crooke writes in his book Tribes and Castes of the North-Western Provinces and Oudh, the Mallahs settled along river banks centuries ago and chose river-centric occupations like fishing and rowing as their primary livelihoods.
Pramod Manjhi, general secretary of Maa Ganga Nishad Raj Seva Samiti, a nonprofit working for the betterment of Varanasi's Mallahs says the tourist footfall has not picked up much since the COVID-19 unlock. Of the nearly 9,000 boatmen in Varanasi, most have not made a penny on several days – except for the boatmen (locally called naaviks) in Dashashwamedh, Assi, and Kedar ghats.
A resident of Shivala Ghat, Pramod took up his family occupation of boating when he was young, and now represents the community in government-led discussions concerning Mallahs.
"Gone are the good old days of the Mallahs. With mechanised and fancy boats eating up the business of manual boaters in the last few years, a consistent income for the latter has become uncertain. Most of the boatmen here want their kids to get educated and take up well-paying jobs," Pramod says.
"Instead of providing us relief, the government has increased the cost of practising this profession. When I voice our community's concerns, I am labelled a Congress party representative. But that won't stop me from speaking the truth," he adds.
After four persons died in Varanasi when an overloaded boat capsized on December 6, the district administration ordered that boatmen carrying passengers without life jackets will be fined or stopped from operating on the Ganga. Tourists are reluctant to wear used life jackets fearing they will contract COVID-19.
Pramod welcomes the rule but also stresses that given the financial crisis brought upon the community by COVID-19, these mandates strike as expensive. Each life jacket costs between Rs 500 and 1,000, depending on the quality.
"The government could have doled out life jackets to boatmen. What is the use of issuing licences or maintaining records of registered boatmen if you can't address their key concerns?" he asks.
Apart from the life-jacket rule, strict timings and the conversion from diesel to CNG are more causes for worry for the Mallahs, he says.
Trickling assistance
Vijay Manjhi, a boatman at Rani Ghat, says, "First, there was the lockdown. Then, came the monsoon. I have been waiting for things to fall back in place since October, but in vain."
As the water level in the Ganga rises during the monsoon which usually lasts from July to September here, the district officers impose a ban on boating during the period.
"Except for the ration that the district authorities provided us for three months during the lockdown, we have received no other assistance from the government. Unlike other communities who benefit from several schemes, the naavik community is always left to fend for itself," adds Vijay.
Though the Mallahs praised Modi government's Namami Gange programme, several of them were angry at not being heard by the Adityanath government. Pramod says not even 10% of Varanasi's boatmen have received the Rs 1,000 monthly assistance that the Uttar Pradesh government announced for daily wage workers. This amount, he says, was only given to those who publicly support the ruling Bharatiya Janata Party.
The notification released on March 21, 2020, mentions that along with 20.37 lakh labourers registered with the state's labour department, hawkers, vendors and other workers in the unorganised sector, and people in rural and urban areas unable to feed their families would also be eligible for the allowance.
Ashish Ojha, assistant municipal commissioner, Varanasi, says the government provided both rations and the Rs 1,000 monthly assistance to boatmen here. "Around 64 boatmen were paid the allowance for two months. The Varanasi Nagar Nigam began a registration process for the boats two months ago and has registered 840 until now. We regularly help boatmen through the government schemes that they fulfil beneficiary criteria for," Ojha says.
Pranab Bhattacharya, an officer at Varanasi's district magistrate's office, says, "We provided the boatmen with ration for three to four months during the lockdown. Although there is no separate welfare scheme for them, the district administration takes good care of the community. We give out ration kits when their business is shut for around three months every monsoon."
Bhattacharya, however, says he has no information on boatmen availing themselves of loans to feed their family and stresses that business is already back to normal with the influx of tourists from January.
Other professions
At Nishad Raj Ghat, a couple is busy cleaning a fishing net while three children run around the duo in circles. The couple, Leela and Pappu Sahni live here with their five children. While Pappu catches fish from the Ganga waters and sells it in the nearby market, Leela manages the household and used to sell sugarcane juice until the pandemic made her shut shop.
"The Ganga water doesn't flow the way it used to 10 years ago. So the catch has reduced greatly over time. On some days we catch up to three kilograms of fish and on others, not even one. As the income from fishing got too low to sustain our family, we bought a sugarcane juicer and started selling the juice," says Leela.
Pappu adds, "We bought the juicer only a year and a half ago. We used to make around Rs 300 a day by selling the juice. The juicer has been lying unused since mid-March last year."
Their son Aakash (20) works at a Banarasi saree dealer's shop and earns around Rs 50-100 a day while their eldest daughter Nibha (19) sells flowers and earthen lamps in donas which are bowls stitched out of leaves. Their youngest daughter, aged six, goes to school. "There are no tourists due to COVID-19. I hardly make Rs 30 a day," says Nibha.
Pappu had been saving up for Nibha's wedding but the yearlong crisis left him with no choice but to use up all the money. But it was not enough and he had to take out a loan of Rs 10,000. The couple has already paid five instalments and is now waiting for summer to resume their sugarcane juice business, with the hope that it will bring income to pay the loan out completely.
Alternatives
Kishan Sahni, a 21-year-old boatman at Prahlad Ghat has not completely run out of hope. "I realised pretty early on that I couldn't solely depend on my boat for an income. The pandemic was only a push. So, apart from boating, I work for local businessmen and am exploring other job options that Varanasi offers as a tourist hub," he says.
Not every person in the Mallah community is skilled or educated enough to quit their traditional livelihood.
Pintu says, "I never went to school and boating is the only skill I have learnt since childhood. I have nowhere to go but wait here all day long for that lone tourist interested in riding my boat. But if the situation continues longer, I will quit this job and look for work in construction sites. I have to feed my family, after all."
Asked if he approached the local authorities for help, he says, "The government knows of our condition but does little to help. We are poor. If we raise our voices too much, we will have to pay for that."
Rituparna Palit is an independent journalist based in Chandauli, Uttar Pradesh. She writes on technology trends, the environment, and the plight of the urban and rural poor in India.