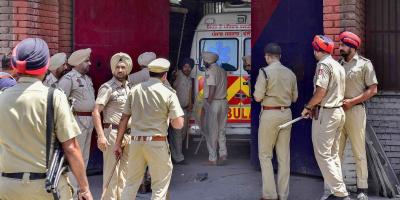 Chandigarh: As Sikh hardliner Amritpal Singh is still at large, the day after Punjab Police launched a massive manhunt to nab him, Jalandhar police chief Kuldeep Chahal termed it a game of "chor-police".
In an update to the media on Sunday, March 19, Chahal denied that there was any mishandling of the situation.
He said, "It is a chor-police game. We arrested most of his supporters. Somehow, he managed to escape. We will arrest Amritpal Singh soon. Our main motive right now is to maintain law and order."
While the Aam Adami Party government in Punjab has extended the internet shutdown for another day till 12 pm on Monday, the situation on the ground appears fluid right now.
A new video has surfaced wherein four close aides of Amritpal Singh were flown to Dibrugarh, Assam.
Even as Punjab Police has not officially shared details of the motive behind shifting his aides to Assam, a media report stated that they were flown to Dibrugarh by a special Air Force aircraft. They will probably be kept in Dibrugarh central jail.
On the other hand, political accusations have already started in the state.
A senior BJP leader from Punjab, Sunil Jakhar, called the AAP government operation on Amritpal "belated, ill-timed, unplanned, and unsuccessful".
He claimed that it was hurriedly launched by the government to escape 'jail-interviews' and slain singer Sidhu Moosewala's death anniversary fallout.
In the last few days, a TV channel broadcasted back-to-back interviews of dreaded gangster Lawrence Bishnoi from inside the jail, in which he vilified Moosewala and also denied any role behind his killing.
Last year, Punjab Police pinned Bishnoi, the mastermind behind Moosewala's death.
While Punjab police categorically denied that interviews were done in Punjab jails where Lawrence is currently lodged, Moosewala's father Balkaur Singh alleged that Bishnoi was made a hero in front of the public but the reality is that he is being used and there are big forces behind him.
As Moosewala's first death anniversary on Sunday, March 19, is being held in the shadow of the police action on Amritpal, Balkaur Singh in a fresh statement also alleged that the ongoing crackdown on Khalistan sympathiser was an attempt to prevent Moosewala's fans to attend the 'barsi' event.
Meanwhile, police action on Amritpal and his supporters was not confined to Punjab alone.
In the latest video, a joint team of Punjab police and Haryana police was seen arresting Daljeet Singh Kalsi alias Sarabjeet Singh Kalsi, an alleged advisor and financer of Amritpal Singh from his flat in Gurgaon.
As per Punjab police's Saturday, March 18, statement, so far 78 persons associated with Amritpal have been taken into custody, including six of his closest aides.
While Amritpal was drawing a lot of attention due to his open demand for Khalistan, the latest police action on him and his team in Waris Punjab De was linked to Ajnala incident last month, said the Punjab government in its press release last night.
It claimed that an FIR has already been filed against him and his supporters on February 24 for their involvement in four criminal cases relating to spreading disharmony among classes, attempting to murder, attack on police persons and creating obstructions in the lawful discharge of duties of public servants pertaining to the Ajnala incident.
Last month on February 23, Amritpal and his supporters stormed inside a police station in Ajnala, a town near Amritsar, after one of their aides was arrested in a kidnapping and assault case.
Meanwhile, the Punjab Police have declared Amritpal a fugitive. The Jalandhar police chief told the press that he was chased for 20-25 kilometres before he managed to escape. "We will arrest him soon," he added.