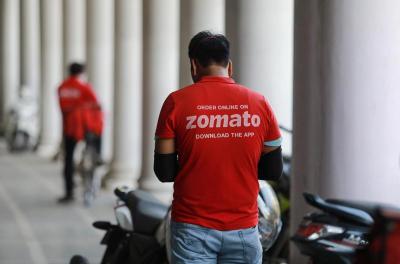 A little over a week ago, food logistics company Zomato made a dream debut on Indian stock exchanges. Its initial public offering worth Rs 9,375 crore was oversubscribed 38.25 times, and its shares had listing gains of over 70%, giving it a market capitalisation of over 1 lakh crore.
Just weeks earlier, its primary competitor Swiggy raised Rs 9,300 crore from a clutch of private investors. Investors remain untroubled by the fact these food logistics companies (FLCs) have racked up astronomical losses since inception, secure in the belief that restaurant delivery services will grow to a $110 billion industry by 2025 (Zomato's RHP, p. 26).
Also integral to their optimism is the assumption that these FLCs will continue to enjoy access to the underpaid labour of a highly vulnerable segment of Indian workers. 
Consider a bit of historical context. Engorged with vast foreign funding, FLCs entered our labour market less than a decade ago with the much-marketed lure of massive earnings for anyone with a motorbike. FLCs ran advertising campaigns promising monthly incomes of over Rs.40,000, and aggressive driver onboarding teams were set up to sell this proposition across the country. Lakhs of workers signed on, many of whom took on loans to purchase vehicles, as the expected remuneration dwarfed the EMIs. And for a while, the system worked, albeit unfairly; FLC workers could potentially earn the advertised amounts, provided they put in back-breaking shifts that often extended beyond 12 hours. 
The scenario today is vastly different. Payouts for FLC workers have been unilaterally revised, resulting in remuneration as low as Rs.15 per order. The additional incentives were reduced/eliminated and complex penalties introduced, often resulting in earnings lower than fuel expenses. They have none of the standard employee benefits, including overtime compensation, or leave; on the contrary, Zomato's RHP and website discloses that the FLC workers are actually charged a platform fee for being onboarded.
For FLC workers, quitting is not an option, given the loans and other obligations that would have arisen since they first started. This state of affairs has led to several protests and strikes by FLC worker groups across the country since 2020 – though this yielded little respite; after all, as one FLC worker put it: 'how do you protest against an app?' So, they're invariably forced to continue.  
These workers are an integral part of the business of the FLCs, without whom the FLC cannot exist. Yet, by labelling them 'gig workers', 'independent contractors', 'delivery partners', even 'driver entrepreneurs', and substituting the typical workplace with a mobile app, FLCs evade the responsibilities of an ordinary employer under the law. The FLCs claim that its workers are self-employed, and they can choose when and how long they wish to work; thereby skirting legal restrictions on excessive work hours and the obligation to ensure other benefits. 
Globally, there is no consensus over whether FLC workers qualify as employees, though foreign judicial decisions are increasingly finding in favour of labour rights. In 2021, the UK Supreme Court ruled that Uber's drivers were entitled to employee benefits; in 2018, the California Supreme Court specified a test for determining an employer-employee relationship, which effectively designated gig workers are employees (although the impact of this judgement on the transportation sector was subsequently undone). There are, however, no judicial tailwinds in India in support of the rights of FLC workers, and the Central government has even statutorily segregated FLC workers from "employees". 
Yet, the fundamental nature of an employer-employee relationship cannot be denied in the FLC-worker equation. The FLCs exert pervasive control over FLC workers, determining which delivery jobs are allocated to them, how much they get paid, how fast they need to complete the job, how they interact with customers, what they wear, what equipment they use, etc. While the FLC workers can choose to decline a specific job or go offline for extended periods, these choices result in penalties or de-prioritization, which make a huge difference in earnings. Thus, the choice of the FLC workers is illusory, and the control exercised by FLCs undeniable.
It is arguable that the treatment of FLC workers may amount to forced labour, which is prohibited under Article 23 of the Indian constitution. While a plain reading of Article 23 would suggest that it extends only to traditional forms of forced labour (like the begar bonded labour system) and does not cover instances of underpaid labour compelled through economic circumstances, a 1982 Supreme Court judgement makes it clear that such an interpretation would be narrow, incorrect, and unconstitutional. 
In PUDR vs Union of India (1982 SC), while hearing a public interest petition against the unconscionable exploitation of construction workers, the Supreme Court held that "there is no reason why the word "forced" should be read in a narrow and restricted manner so as to be confined only to physical or legal "force"… Any factor which deprives a person of a choice of alternatives and compels him to adopt one particular course of action may properly be regarded as "force" and if labour or service is compelled as a result of such "force", it would be "forced labour"."
In effect, the court found that where the compulsion of economic circumstances left no alternatives to a person and compelled her to provide labour at remuneration lower than minimum wage, the mandate of Article 23 against exploitation would be violated. In the case of FLC workers, especially those who have taken loans – often with assistance from the FLC itself – the economic circumstances compelling them to continue to work at highly underpaid rates are attributable, at least partially, to the FLC. Thus, it is arguable that FLCs have violated Article 23; a fundamental right that is enforceable against private parties as well as the State. Unfortunately, as the lawyer Gautam Bhatia writes in his book The Transformative Constitution (Harper Collins, 2019), 'the judgement in PUDR is a signpost to a road not yet taken', as several subsequent judgements have ignored the principles set out therein while dealing with labour rights.
Newly minted shareholders of Zomato might argue that such practices are a result of market forces and free consent, and not unique to FLCs. However, the scenario fundamentally changes when an FLC is listed, since the State is effectively supporting their exploitative business model by facilitating their access to funds from the public.
Instead of remedying the situation by providing legal protections, the Government introduced four new labour codes that entrench the problem. The Code on Social Security 2020 (CSS) slots FLC workers into 2 amorphous definitions – 'gig workers' and 'platform workers' – which places them outside the traditional employer-employee relationship. The CSS further stipulates that the Central Government may provide certain (vague and indeterminate) benefits like 'old age protection', 'creche', 'life and disability cover', and 'health and maternity benefits' to such workers – without any explanation of what, when, and how the benefits will be provided. The only responsibility placed on the FLC is that of a possible monetary contribution towards these schemes, capped at a paltry 5% of the total amount the FLC pays to its gig & platform workers. Thus, the only result is a tax on FLCs resulting in the creation of another fund that may remain unutilised or diverted, like so many others before it (Nirbhaya Fund, and Building and Construction Workers fund).   
The Securities Exchange Board of India (SEBI) even eased the listing requirements for companies using innovative technologies, thereby paving the way for Zomato to list earlier on the "Innovators Growth Platform". How FLCs qualify as innovative technology companies is a puzzle; in Douglas O'Connor v. Uber Technologies Inc. (2015), the US District Court of Northern California observed that Uber was no more a technology company than a manufacturer of lawnmowers that used computers and robots to produce the lawnmowers; instead, a company should be defined by what it does, rather than the mechanics used to do it. 
It is important that public markets push listed entities towards greater accountability; however, few meaningful examples exist. In April 2021, Adani Ports and SEZ Ltd was removed from the Dow Jones Sustainability Indices due to "relationship with Myanmar's military, who are alleged to have committed serious human rights abuses under international law", though this was seemingly on account of the commercial risks to the stock price. 
SEBI's business responsibility and sustainability reporting (BRSR) requirements are a step forward. Applicable to the top 1000 listed entities, Principle 5 therein requires disclosures on measures taken to "respect and promote human rights". A guidance note in the BRSR even defines "forced or involuntary labour" as "all work or service that is extracted under the menace of penalty… includes any labour for which the worker receives less than the government stipulated minimum wage"; an unexpected / unintentional reference to the PUDR principles. It would be interesting to see Zomato's disclosures in this context next year.
Cheerleaders of Zomato's IPO have marketed the "gig economy", predicted to touch 90 million jobs by the end of the decade, as the panacea to India's unemployment problem, blind to the alienation of labour and the estrangement of justice that this will cause. One of the few sources of hope on the horizon is the ongoing litigation by the EPFO, Gurgaon, which seeks to hold Zomato the company responsible for not treating its delivery personnel as employees.
Chitralekha Das and Varun Thomas Mathew are lawyers practising in New Delhi.