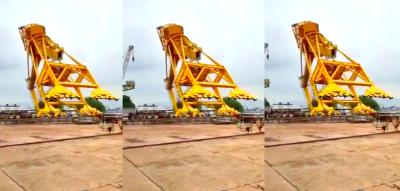 New Delhi: Eleven people were killed on Saturday afternoon after a rail-mounted crane collapsed at the Hindustan Shipyard Limited worksite at Visakhapatnam in Andhra Pradesh.
The crane weighed 75 tonnes.
Four of the victims were employees of HSL while the rest belonged to a contracting agency, District Collector Vinay Chand was quoted by PTI as having said.
According to a report on Indian Express, the crane had been repaired recently. Officials were in the process of inspecting it when it collapsed. Several people still remain trapped underneath as fire services work to extricate bodies.
Terrible news. At least 10 dead, several injured in heavy crane collapse at Hindustan Shipyard Ltd (HSL), Visakhapatnam, a state-owned shipbuilder that has been vying for warship contracts pic.twitter.com/mwww7VSkLY

— Shiv Aroor (@ShivAroor) August 1, 2020

The injured have been taken to local treatment centres.
Visakhapatnam police commissioner R.K. Meena has arrived at the spot, according to Mumbai Mirror. Meena told PTI that the accident occurred when the crane was being erected.
Officials are verifying the attendance records to ascertain who was at the site, said Mirror.
Note: This is a developing story.