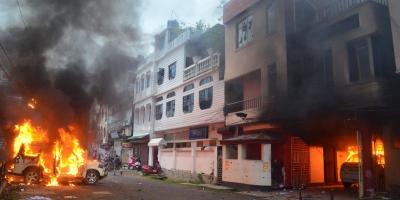 Agartala: Violence erupted in various parts of Tripura after alleged BJP workers attacked offices of three media houses and three offices of the CPI(M) on Wednesday, September 8. More than 10 persons have been injured and six vehicles have been set ablaze.
The three media houses that came under attack were Pratibadi Kalam daily and its TV channel PB24, Daily Desher Katha offices in Agartala, and Duranta TV channel office based at Udaipur in Gomati district. CPI(M) state head office and sub-divisional office in the Melarmath area of West Tripura district and a local party office in Bishalgarh were also attacked.
The Wednesday's violence is a result of a clash that took place between BJP and CPI(M) workers on Monday at Dhanpur and Bashpukur villages of Tripura's Sepahijala district, during the visit of Manik Sarkar, former chief minister and the leader of the opposition.
As a result, on Wednesday, fresh violence was reported from Udaipur in Gomati district (located 50 kms from Agartala), Bishalgarh in Sepahijala district (located 30 kms from the state capital), and Hapania and Melarmath areas of West Tripura district. Police resorted to lathicharge and burst teargas shells in Udaipur to bring the situation under control.
"Full assessment is yet to be done. Around six vehicles including three cars and a few motorcycles were burnt at Agartala. Political party offices at Bishalgarh and Hapania were gutted. A party office at Udaipur district came under attack. A youth named Mafiz Miah was injured there. A case was booked in connection with the incident and two persons were arrested," a senior official of the state police informed.
The attacks on media houses, including Pratibadi Kalam, PB 24 and Daily Desher Katha, took place when the ruling BJP organised a rally in Agartala on Wednesday protesting against the alleged attack on their party workers during Monday clashes reported from Dhanpur and Bashpukur villages of Tripura's Sepahijala district. A mob congregated at these media houses and torched two-wheelers parked outside Pratibadi Kalam and PB 24 offices along with the vehicle of Anal Roy Chowdhury, editor.
Later, Wednesday evening Tripura Left Front convener Bijan Dhar told reporters that when they were returning from the Bishalgarh sub-division after attending a meeting they learnt that BJP cadres got a bulldozer and tore down the district party office gate and set it ablaze.
He also alleged that BJP-backed "goons" attacked CPI(M) leader Partha Pratim Majumder's house.
About the clashes in Agartala, Dhar said the CPI(M) Sadar organisational district committee office was ransacked and attacked and later the party's state headquarter at Melarmath area was also attacked.
"They came inside the state headquarters. I was inside. I tried to stop them, but they disregarded me, damaged party documents, smashed photo frames of our leaders, destroyed television sets and threatened us to stop our political activities. Some vehicles and motorcycles were set on fire in front of our office as well," he recalled.
Terming the attacks as a "direct attack on democracy", Dhar said the Left political parties would work to "politically tackle" the BJP. He also claimed that these attacks were pre-planned.
The former chief minister and leader of opposition Manik Sarkar condemned the incidents, stating that he had never seen such incidents during the Left Front government's tenure. Sarkar said that the BJP is losing its support due to its non-performance.
He told that BJP had first attacked PB24 TV office then attacked the Sadar sub-divisional party office and later attacked CPI(M) state party office and Daily Desher Katha office.
Rubbishing the allegations, BJP spokesperson Nabendu Bhattacharya said no one from his party had attacked anyone, instead claimed that seven BJP workers were assaulted by CPI(M) activists. Bhattacharya alleged that after Sarkar instigated his party cadres, they attacked many BJP workers in the Sepahijala district.
"We have noticed that CPI(M) leaders are involved in instigating violence in the state for the last few days. Former CM Manik Sarkar instigated his party cadres to attack BJP workers in Sepahijala district two days back. In Udaipur, one of our activists was attacked and injured. Our women activists were attacked with bricks at our rally in Agartala when they were organising a protest march against the violence at Sepahijala district," he said, adding that seven BJP activists were injured in the latest series of attacks.
On the attack against media houses, Bhattacharya said, "We are sorry if it has happened. It might have happened by mistake. It was a mistake. Our top leaders will discuss it and if it is true, required steps will be taken."
Meanwhile, chief minister Biplab Kumar Deb on Thursday directed the crime branch to carry out an investigation on the attacks against media houses that took place on Wednesday, September 8.
Condemning the violence, Deb said that his government believed in the freedom of the press.
On Thursday, a 10-member delegation of the senior journalists, including the secretary of the Agartala Press Club, Pranab Sarkar met inspector general of police (law and order), Arindam Nath, at the police headquarters and alleged that supporters and activists of a political party attacked three media houses and vandalised them in different parts of the state on Wednesday in which at least four journalists were injured.
The police officer after hearing out senior journalists Nath told them that police had already intensified their investigation to nab culprits.
He informed that the crime branch will investigate the violence against Pratibadi Kalam and its TV wing PB24 as the editor of the media house in his complaint mentioned that the officer-in-charge of West Agartala police station was present on the scene, but did not act. He also assured them that the police will investigate the attack against Daily Desher Katha (mouthpiece of CPI(M)).
"Since the office-in-charge himself is accused of inaction, we have handed over the case to the crime branch. We have gathered huge footage from CCTV camera, so the culprits would be arrested," Nath told the delegation.