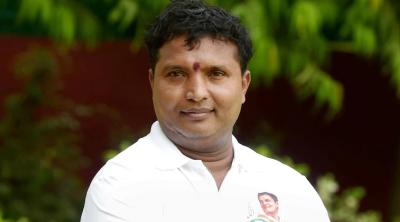 New Delhi: A team of Delhi Police Crime Branch on Friday visited Youth Congress chief Srinivas B.V.'s office to question him over the alleged "illegal distribution of COVID-19 medicines", news reports said.
The move comes after a writ petition was filed by Deepak Singh, chairman of non-profit Hrudaya Foundation, about politicians involved in alleged illegal distribution of medicines being used for treatment of COVID-19, following which the Delhi high court directed Delhi Police to conduct an enquiry. Among the names the petitioner has given include AAP MLA Dilip Pandey, BJP MP Gautam Gambhir, BJP MP Sujay Vikhe, Congress leader Priyanka Gandhi Vadra and Congress MLA Mukesh Sharma.
Earlier this week, the Delhi Police approached AAP MLA Dilip Pandey over the same issue, Indian Express reported.
"Helping someone has become a crime under Modi's reign. Me and my entire family are dealing with COVID at this time but the Crime Branch came to ask me why I have been helping people. I will help those affected not once, but a thousand times, even if Modi-Amit Shah hang me to death," Pandey tweeted.
किसी की मदद करना भी मोदी राज में गुनाह हो गया है. मेरा पूरा परिवार कोविड की त्रासदी से परेशान है, लेकिन मेरे पास क्राइम ब्रांच की पूछ ताछ आई "लोगों की मदद कैसे कर दी? जवाब दो?"

एक नही एक हज़ार बार पीड़ितों की मदद करूँगा, भले ही इस गुनाह के लिये मोदी-अमित शाह मुझे फाँसी चढ़ा दें।

— मास्क लगायें, बेहद ज़रूरी हो तो ही बाहर जायें (@dilipkpandey) May 11, 2021
Srinivas, who was appointed as the national president of the Youth Congress in December 2020, has been at the forefront during the pandemic and the migrant crisis.
On Twitter, Srinivas became a point person for those seeking help during the COVID-19 pandemic. He is heading a team of around 1,000 volunteers from the Youth Congress who are responding to SOS requests made on social media for oxygen, ventilator beds, medicines and doctor consultation.
"We will not stop our work, we are not scared. We have not done anything wrong, if our smallest efforts can help save a life we will not stop or be scared of such PILs," Srinivas told NDTV.
According to the Hindu, Srinivas said the Delhi Police wanted to know details of how they are helping people and that they have answered all the questions.
Meanwhile, the Congress slammed the Centre asking if providing oxygen cylinders and life-saving drugs to COVID-19 patients is a "crime" under the Narendra Modi government.
"Today every person has to decide if providing oxygen, helping people to get life-saving drugs like Remdesivir, arranging beds or providing food to ambulance drivers is a crime. It seems to be a crime according to Prime Minister Narendra Modi," Congress chief spokesperson Randeep Surjewala told the Hindu.
Recently, the central government and the Congress sparred over the Youth Congress delivering oxygen cylinders to two embassies – New Zealand and Philippines – in New Delhi.