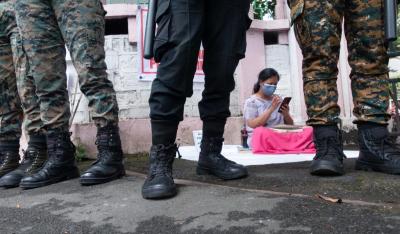 New Delhi: Even when it rained heavily, Angela Rangad moved barely an inch under her umbrella, from her position at the main gate of the Meghalaya Secretariat in Shillong.
For 10 days, from July 19 to July 29, surrounded on all sides by police and with her back to the wall, Rangad has sat on the ground and held placards with clear messages. "Don't steal people's money," says one. "Mr Conrad Sangma's government constantly lies; is apathetic to people's distress; only knows to govern for its rich and corrupt cronies; denies people's rights in the midst of pandemic hardships; is unaccountable," says another.
On July 26, Isawanda Laloo, the district commissioner of East Khasi Hills, issued a letter to her to vacate the area at the earliest. She stayed put for another three days, till the government called her for a meeting to hear the demands of the people who she represented at the protest.
For women in the Northeast, resorting to extraordinary methods of protests is not new. The region has formidable examples in the Meira Paibi women's demonstration without clothes against the horrific rape and killing of Manipuri woman Thagjam Manorama; and that of a 16-year-long hunger strike by Irom Sharmila who attempted to draw attention on how the draconian law, Armed Forces (Special Powers) Act (AFSPA), had become a weapon to curtail civilians rights in her state.
Rangad's peaceful sit-in, alone, is part of this legacy. Popular as an activist and as the leader of the rights organisation Thma U Rangli Juki (TUR), Rangad hinged her protest on two unfulfilled financial promises made by the Conrad Sangma government to labourers in 2020 to help them through the economic effects of the lockdown.
One promise was a one-time payment of Rs 5,000 to each labourer registered with Meghalaya Building and Other Construction Workers Welfare Board (MBOCWWB). As of March 2021, there are nearly 25,000 workers registered with the Board.
Another promise made in 2020 was that an amount of Rs 2,100 would be given to daily wage earners and unorganised workers, including domestic workers, hawkers, construction labourers, under the Chief Minister's Relief Against Wage Loss (CMRAWL).
The amount was to be given in three weekly instalments. Some media reports quoting G.H.P. Raju, principal secretary at the state labour department, had stated that Rs 38 crore had been sanctioned for the scheme. Interestingly, reports had also quoted Raju stating that the scheme was meant for "migrant labourers," when it was meant for all daily wagers.
Raju had said in June 2021 that out of 2.3 lakh people who had submitted applications to avail themselves of the CMRAWL benefit, the bank accounts of only 1.8 lakh could be verified. Claiming that "actual labourers were mixed with returnees," Raju had said, "The banks were successful in releasing the amount to roughly 1.4 lakh accounts, and the remaining 38-39,000 accounts were rejected because of non-tallying of IFSC code or the bank account holder's name with the bank given by the labourer was incorrect." 
An RTI application filed by Rangad led the state government to provide a copy of the list of beneficiaries of the scheme to TUR. Upon sharing it publicly, TUR received an overwhelming number of responses from those whose names were mentioned in the list as beneficiaries. Many of them said they had not received any financial assistance, or had only received a portion of the promised amounts. 
Speaking to The Wire from Shillong, Rangad explains the context of the protest and her efforts. Excerpts from the chat are below.
What led you to take up this solo protest? What was on your mind? 
First, I must say that even though this was a solo protest, it would not have been possible without the mobilisation and organisation of the working class movement that has been growing in Meghalaya.
We, at TUR, have been following up on the Meghalaya government's promise in 2020 for income support to daily wage earners and unorganised workers including domestic workers, hawkers, taxi drivers, construction labourers.
The promise of Rs 2,100 each was made under the Chief Minister's Relief Against Wage Loss scheme. Also, an amount of Rs 5,000 each was to be released during the first wave of the pandemic last year to workers registered with the Labour Welfare Board. We did small in-person surveys with our hawker friends to see if they had received that money and realised that most hadn't. 
We then filed complaints with the government highlighting this, but nothing was rectified. In November, 2020, we filed an RTI on the matter and after getting the replies, particularly the list of beneficiaries (of the CMRAWL scheme), we shared it publicly using social media platforms like Facebook and WhatsApp and local TV networks.
We requested people to check for their names in the list and to verify if what was booked against their names was correct. We gave a phone number too where they could reach us. This led to a barrage of phone calls and text messages from across the state.
Many, whose names appeared in the list of beneficiaries got nothing at all or only partial payment. Many who met the criteria for the financial benefit and had applied for it did not find their names in the beneficiary list. 
We compiled all those complaints and submitted a 1,400-page memorandum to the government, hoping it will reach out to those deserving people and ensure the irregularities are addressed. The distress messages from the people never stopped and we sent additional complaints containing names of people. Yet, the government was unresponsive.
This is the context against which this protest was held. 
You began your protest on July 19…
Yes. I decided to do a sit-in in front of the main secretariat office in Shillong to draw attention to the complete failure of the government to fulfil its commitment, especially given that the distress magnified as a result of the second wave of COVID-19. 
I sat alone. Since COVID-19 protocols needed to be adhered to, we did not want to endanger the safety of anyone through large gatherings. We also did not want to give an opportunity to the state to clamp down on a legitimate agitation because of violation of any pandemic-related rules.
Also, the unlocking procedure after two and a half months of lockdown had begun and for daily wagers who were only allowed to earn on alternate days, etc., it was important for them to work. Yet, many would come in batches through the day to show their solidarity and be with me.
At this point, what is your demand from the state government?
Our demand is that they should immediately transfer to all the beneficiaries the amounts of Rs 2,100 and Rs 5,000, as promised in 2020. In fact, for the Rs 5,000 payment, the government had made an excuse that some registered labourers had not done the Rs 10 renewal process last year, at the height of the pandemic. 
[Rangad said though around 65,000 workers are registered with the Board, only 25,000 have been listed as beneficiaries for the pandemic-related financial aid as the rest failed to pay the renewal amount of Rs 10 during the pandemic.]
So, our demand is also for a one-time waiver of that small renewal fee as the Board has almost Rs 150 crores of unspent money lying with it and it is the right of labourers to have access to that fund, especially at a time such as this.
We also demand that this year a new income support needs to be announced but with better and transparent implementation. An economic stimulus package also needs to be announced immediately.
We saw a lot of police presence at the site of your protest. On July 29, you suspended the protest. Why? 
The government asked for a meeting with us where it finally acknowledged discrepancies in the income support implementation.
(Rangad attended the meeting with representatives of hawkers, domestic workers, taxi drivers and labourers called by principal secretary Raju on July 28.) 
The government has also asked for time to ensure the transfers are done and for verification of transfers. We agreed to an August 15 deadline – subject to the government giving us updates and weekly progress reports.
If the government doesn't heed to this demand, what's next?
We are ready to get back on the streets. The workers and the various organisations are also ready for it.
Note: This article has been updated with additional information on the relief scheme and how G.H.P. Raju defined it while talking with reporters.