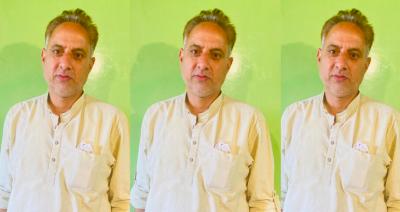 Safapora (Ganderbal): In the village of Safapora on the Srinagar-Bandipora road lies a nondescript house, which has, of late, been busy. People have been visiting the house to meet 50-year-old Sajad Rashid Sofi, who was released last evening after spending six days in jail.
He was arrested after he told an advisor of the Jammu and Kashmir Lieutenant Governor on Thursday, June 10, that he had "no expectations from officers who are not locals". His line reportedly displeased the local deputy commissioner, an IAS officer of the Uttar Pradesh cadre, who is on deputation in Jammu and Kashmir at present.
Sitting in a room with visitors, Sajad, whose family twice survived blasts and has been associated with Kashmir's mainstream politics, looks disoriented and unambiguously disappointed.
"Why was I treated like a hardcore criminal over mere words? Is it a crime to raise demands of the public before bureaucrats?" asks Sajad, who has two sons.
Sajad adds that he was not talking about separatism or militancy. "Don't we have the right to highlight our grievances? I was talking within the limits of democracy," he says.
 Sajad's disappointment finds resonance in Kashmiris who took active part in electoral politics but feel humiliated by the events since August 5, 2019, when the Centre scrapped Jammu and Kashmir's special status.
"I appeal to the Lieutenant Governor to probe the charges levelled against me by the district administration at Ganderbal. If I am at fault, the government has the right to punish me. But if it finds that I have not done anything wrong, I deserve justice," he says.
Sajad was booked for "promoting enmity between different groups" and was kept in preventive detention even after a local court granted him interim bail on Saturday.
What happened on June 10?
Sajad says he met the the J&K LG's advisor Baseer Khan, who is a local, four times in the past two years to seek redressal of issues.
"I have twice met him at Church Lane, Srinagar, and once at the DC's office at Ganderbal to press for utilisation of government land available in our locality for building public infrastructure," he says
On June 10, Sajad says he along with a few civil society members of Safapora met advisor  Khan at Manasbal.
Recalling his conversation with Khan, Sajad says he didn't make any offensive or hurtful comments. "What is wrong in saying that we have better expectations from local officers? Are local officers not more familiar with our issues than the officers who are posted for a brief period in a state or Union Territory? What wrong did I do by placing faith on local bureaucracy?" he asks.
The police report filed in the court of Chief Judicial Magistrate Ganderbal quotes Sajad as saying, "I have expectations on you (sic) because you are a Kashmiri and can understand. And I can catch hold of your collar and can seek answers from you but what expectations can I have from non-state officers?"
According to Sajad, while he was addressing the advisor, the Ganderbal deputy commissioner, Krittika Jyotsna, stood up from her chair in apparent protest. But Sajad did not catch what she said.
"I had no idea that she stood up to object to my remarks. The meeting ended cordially and we left the venue at around 2 pm," he says.
According to him, the DC did not seek any clarification from him over his remarks during the meeting or after its conclusion.
"I got a phone call from local SHO at around 3 pm to come along with him to the SSP office. When I went there, the SSP advised me to desist from using such remarks. I reached home at around 8 pm," he says.
Sajad again got a phone call from the local SHO at around 10 pm to come to the police station.
"I was shocked when they registered an FIR against me. The policemen told me that they have got directions from higher-ups to keep me in detention," he said.
On Saturday, June 12, Sajad was granted interim bail  by the chief judicial magistrate at Ganderbal but he was kept in preventive detention for being a "threat to peace" under sections 107 and 151 of the IPC.
After widespread outrage over his detention, the J&K administration released him on Tuesday evening from Dignibal sub- jail, Ganderbal.
When contacted, SSP Ganderbal, Suhail Munawar Mir, simply said they have released him.
Son of a police officer, contested polls twice
A staunch supporter of National Conference, Sajad's family has been associated with J&K's grand old party from the days when  it was founded by the late Sheikh Muhammad Abdullah.
"My father Ghulam Muhammad Sofi, who was popularly known as Lala, was associated with NC from its beginning. He served as its block president and district vice-president," says Abdur Rashid Sofi, Sajad's father.
Abdur Rashid retired as deputy superintendent of police in 2001.
"I have served my nation for 38 years. There is no district in Kashmir where I have not discharged my duties as station house officer. But I had never thought that one day my son be jailed for speaking," he said.
He says there were two attempts in the past to blow up his house over the family's association with mainstream parties.
"In 1989 a pencil bomb detonated near our house but it did not cause any damage. In 1991, an IED was planted. It exploded and caused damage to our property but miraculously no one was hurt," he said.
Son Sajad has been associated with mainstream politics for the past 24 years.
"I contested the 2011 panchayat elections and was elected as sarpanch. I also plunged into fray during the district development council elections but ended was a runner up," says Sajad.
According to locals, Sajad has been at forefront of helping COVID-19 patients in Safapora and adjoining villages.
"He is distributing oxygen concentrators and cylinders to COVID-19 infected patients in the area. He is also convincing and motivating public to go for vaccines against the pandemic," they said.
Condemnations
Former Chief Minister and National Conference vice-president Omar Abdullah said the detention was unacceptable.
I haven't come across a worse reason to detain a person & I was detained for encouraging people to vote so that's saying something. It's unacceptable that a person should be jailed for expressing a totally harmless opinion.This is what happens when bureaucratic power is unbridled https://t.co/97RJhwonCX

— Omar Abdullah (@OmarAbdullah) June 15, 2021
Peoples Conference chief Sajad Gani Lone termed the action an existential crisis for democracy.
Don't get it wrong. Don't make it a Kashmir Kashmir thing. It is an existential crisis for democracy. It is about democracy. https://t.co/yLESjc4TmQ

— Sajad Lone (@sajadlone) June 15, 2021
Denouncing the detention, CPI(M) leader and four-time MLA Muhammad Yosouf Tarigami termed it a brazen violation of the fundamental rights of people.
"Police did not release him even when the court granted him interim bail as he has been reportedly booked additionally under sections 107 and 151 of the IPC. This is a brazen misuse of power and authority besides amounting to violation of fundamental rights of a citizen," he said.
Member Parliament from Anantnag and former High Court Judge, Hasnain Masoodi also criticised the registration of successive cases against Sajad Rashid. "Depriving him of his personal liberty on the basis of an innocuous comment that was not even offensive, much less aimed to promote enmity, means that authorities need to be reminded that right to freedom of speech and expression is the most valued and cherished fundamental right guaranteed under the constitution and no amount of official arrogance or bruised egos can justify its violation," he said.