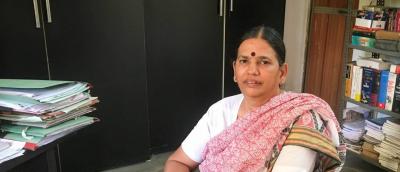 New Delhi: Appealing for an early and decisive hearing for Sudha Bharadwaj's release at the earliest on the grounds of her susceptibility to COVID-19, the lawyer's close associates, friends and family have demanded full access to her medical history in the jail and all medical notes.
As per a note circulated by her close associates, friends and family, activist and lawyer Bharadwaj, who is currently lodged at the Byculla women's prison over what Pune Police had claimed was her role in the Elgar Parishad violence case, noted that, "a jail medical report received from the court on July 23 was disturbing."
"The report informed that Sudha Bharadwaj is suffering from Ischemic heart disease, a heart problem caused by narrowing of arteries that causes reduced blood flow to the heart muscle and can lead to heart attack," reads the note.
According Bhardwaj's daughter Maaysha, "This is extremely worrisome as Sudha Bharadwaj never had any heart related complaints before she was taken in custody on October 27, 2018, after her nearly two months of house arrest."
She also said that her "mother's deteriorating heart condition is clearly triggered by the stress she is facing due to her two-year-long incarceration with no trial on sight." Bharadwaj's close friends and family claimed that medical doctors consulted by them had explained that such a condition was serious and could lead to a heart attack.
"The recent heart condition adds to Sudha Bharadwaj's existing ailments of diabetes and blood pressure, along with her history of pulmonary tuberculosis. Such health conditions makes Sudha Bharadwaj extremely vulnerable and susceptible to infections of COVID-19," they noted.
Bharadwaj has been a veteran human rights worker, trade union activist and lawyer based in Chhattisgarh. She also taught at the National Law University (NLU) Delhi as visiting professor. Ever since her name cropped up in the case, Bharadwaj and her associates have maintained that she has nothing to do with it and has been falsely implicated in the case. She was arrested two years ago in August 2018.
Citing the response to the PIL, they noted that the Byculla jail (where Bharadwaj is lodged) in order to maintain physical distancing  norms, can only accommodate a maximum of 175 inmates however as on July 28, it housed 257 prisoners.
A report by Sukanya Shantha for The Wire, noted that medical facilities in Mumbai's overcrowded prisons were far less than optimal in this health crisis.
"As of last month, none of the occupants have undergone relevant tests for COVID-19," Bharadwaj's family and friends noted. "They said that this was despite the jail doctor and the jail superintendent testing positive for coronavirus, and a 54-year-old woman inmate who was hospitalised due to low oxygen saturation levels testing positive for COVID-19 in the hospital."
Complaining about the delay in the judicial process, Bharadwaj said it was extremely distressing that the bail application filed before the Bombay high court on June 11 on medical grounds is "still pending after a delay of two and a half months."
The bail petition was listed for hearing at least 12 times between June 23 and August 17, with no decision so far. Bharadwaj's family and friends said, "Either no hearing took place, or the matter was adjourned for reasons such as the NIA taking time to file a reply, or the jail filing an illegible reply."
"At a time of such a pandemic, each day spent in an unsafe, crowded place is exposing a person with co-morbidities to unnecessary health risk. Such delays in the judicial process are thus unconscionable," they further noted.
In June, The Wire had reported that despite a court order, Bharadwaj was denied the basic right of phone calls.
"All of these efforts have only added to my anxiety. My mother is locked in a jail where at least one person has already been infected (by coronavirus). She is diabetic and has hypertension. Since the lockdown, I have not been able to even hand over her routine medicines. I don't even know how she is coping in there," Maaysha had told The Wire.
In May this year, over 600 eminent citizens in a letter addressed to the high powered committee headed by Justice A.A. Sayed, had requested for the temporary of release of Bharadwaj and her co-accused, academic Shoma Sen.
Referring to the committee's decision to decongest jails in Maharashtra by releasing undertrial prisoners, the signatories had argued, "In view of the news of the spread of COVID-19 in Byculla Jail we request you to pass directions for the release of Advocate Sudha Bharadwaj and Professor Shoma Sen. They are inmates of Byculla Jail, falsely implicated for the Bhima Koregaon conspiracy."
Apart from demanding full access to Bharadwaj's medical history in the jail and all the diagnostic notes, her friends and family have also appealed to jail authorities to decongest the jails, test all inmates and make appropriate provisions to avoid a COVID-19 outbreak in the jail.
Meanwhile, a global alliance of civil society organisations, CIVICUS, has called for Bharadwaj's release. "August 28, 2020 marks two years since the arrest and detention of Indian activist and human rights lawyer Sudha Bharadwaj. Ahead of this second anniversary, global civil society organisation CIVICUS calls on the Indian government to immediately release Bharadwaj and drop all charges against her," read a statement released by the global alliance on Thursday.
Bhardwaj's "human rights activities have put her in the firing line of the Modi regime, which is abusing the Unlawful Activities Prevention Act (UAPA) and using it to round-up activists and human rights defenders on trumped-up charges," said Josef Benedict, Asia-Pacific civic space researcher for CIVICUS.