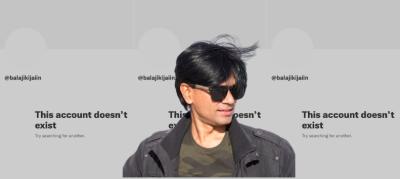 New Delhi: Days after Alt News co-founder Mohammed Zubair was arrested, late on June 27, the Twitter handle whose objection to the journalist's 2018 tweet of a film still led Delhi Police to take action no longer exists.
The account @balajikijaiin, had the name 'Hanuman Bhakt'. On June 19, it had tagged Delhi Police, ostensibly drawing its attention to the tweet from four years ago in which an image from a 1983 Hrishikesh Mukherjee film showed that a hotel signboard was painted over so that the words 'Honeymoon Hotel' now read 'Hanuman Hotel.'
Many on Twitter have pointed out since Zubair's arrest that the @balajikijaiin account had little activity other than the one tweet. It also had once three followers until Zubair's arrest.
Zubair's counsel Vrinda Grover had argued in court that in any case, the anonymous account could not be considered "the spokesperson of anyone who follows the religion."
Grover: let us take the tweet of Hanuman bhakt on its face value. it's not a case of 153A. In any case he is not the spokesperson of anyone who follows the religion. #MohammedZubair #AltNews #DelhiPolice

— Live Law (@LiveLawIndia) June 28, 2022
"If an anonymous Twitter handle chose to create mischief in the country, those reasons should be investigated i think. Abuse of legal process is writ large over here," Grover had said.
To this, according to LiveLaw, the prosecution sought to label the anonymous account as an 'informer.'
"He is just [a] mere informer. He is not an anonymous complainant. His details are here. Without details, no one can get a Twitter account. We have to recover laptops and instruments from which it was posted. So there is requirement of police remand," the prosecution said.
In the same hearing, prosecution complained to the court that "all applications are deleted from [Zubair's] mobile phone."
Commentators on Twitter pointed out how the prosecution's claims appeared hollow and how it sought to paint the allegation that there was no evidence as evidence itself.
The absence of evidence as evidence. https://t.co/Ie8qq2KJBG

— Seema Chishti (@seemay) June 28, 2022
Claims supposedly made by the police to reporters did not stop at Zubair's "blank phone."
A report by Ayush Tiwari on Newslaundry further summarises how what was first a report on what an 'anonymous source' had told news outlets later became a claim made on record by deputy commissioner K.P.S. Malhotra. This claim was that Zubair's account had allegedly 'received Rs 50 lakh in the last few days.'
India Today, which reported on this police claim, initially wrote that the amount had been received in the "last three months".
Alt News co-founder Pratik Sinha has tweeted that the claim is a lie and that police were linking donations received by the independent fact-checking organisation to Zubair.
Fact-check: Absolutely lies. Police is linking donations received by Alt News to Zubair. All the money that Alt News receives goes to the organisations bank and not any individuals. The bank statement of Zubair's personal account of which I have a copy debunks this falsehood. pic.twitter.com/esrmEVpTPp

— Pratik Sinha (@free_thinker) June 28, 2022
The Newslaundry report also points to the bizarreness of a news channel having had access to Zubair's remand copy at a time when even his lawyers did not, "despite multiple requests."
It is interesting that Republic has the remand copy because Zubair's lawyers haven't been provided the copy despite multiple requests to the concerned police personnel. pic.twitter.com/y4yvKdJuSX

— Pratik Sinha (@free_thinker) June 28, 2022
In the immediate aftermath of Zubair's arrest, Sinha had also tweeted that no FIR copy had been presented to Sinha and Zubair's counsels either.
Please note. pic.twitter.com/gMmassggbx

— Pratik Sinha (@free_thinker) June 27, 2022