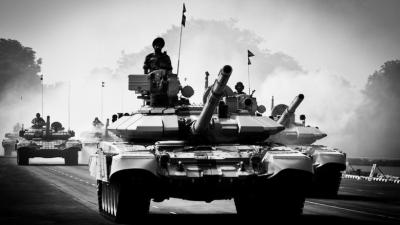 Listen to this article:
Chandigarh: The nearly eight-month-long delay by the government in appointing a new Chief of Defence Staff (CDS), not only disparages India's topmost military post, established with much fanfare as an indispensable appointment in late 2019, but also displays a distressing lack of official confidence in the upper echelons of the country's armed forces.
"The cavalier and offhand attitude of the government in not appointing a CDS so far has damaged the authority of the office of India's senior-most soldier," said a former two-star Indian Army officer, declining to be named for obvious reasons. It will, he declared, also impinge adversely on the new CDS's overall authority, as the appointment has been severely compromised by these inexplicable delays.
But more worryingly, the CDS's job, the officer resignedly added, has been shown up by the government to be somewhat 'expendable', despite the earlier brouhaha over it when it was viewed as a radical appointment to usher in long-awaited military reforms.
Furthermore, having failed to shortlist anyone after General Rawat died in a helicopter crash in December 2021 from amongst the current lot of serving service personnel, including the three incumbent military chiefs, the government added insult to injury last month by wantonly broadening the selection pool for the CDS. On June 7, the Ministry of Defence (MoD) peremptorily issued a notification rendering all serving or retired three-star officers, aged 62 years or below, from either of the services, eligible to become CDS for three years.
This fiat unashamedly expanded the potential choice of CDS to a preposterous aggregate of some 100 officers or more, but even then, almost two months later no appropriate candidate had emerged, highlighting the obvious paucity of competent military personnel. Such a sorry state of affairs has emerged despite the services arduous, complex and highly distilled promotion procedures, which they continually parroted were centred exclusively on merit and overall operational and staff-appointments capability.
Meanwhile, no explanation bas been forthcoming from the government on reasons for this delay, other than sheer unconcern and disinterest. Defence minister Rajnath Singh was the only one to casually state recently that the CDS's nomination was 'under active consideration', but declined to elaborate.
However, some veterans contended that the government was, in fact 'mulling' over the utility of a CDS in India's higher defence management with the aim of augmenting military morale, soothing frazzled civil-military relations and facilitating jointness between the three services. Presently, the CDS's job profile has him as the Permanent Chairman Chiefs of Staff Committee, and Secretary of the newly created Department of Military Affairs or DMA.
He is also military advisor to the defence minister and to the tri-service Nuclear Command Authority and member of the Defence Acquisition Council that oversees materiel procurements. Alongside, the CDS was part of the Defence Planning Committee responsible for defining India's military and security policies, and tasked with vindicating other multi-service responsibilities, prioritising procurements and effecting fiscal discipline, amongst other duties.
"Ideally the government should have appointed a CDS within weeks, and if not, a couple of months, of General Rawat's demise," said a former three-star Indian Navy officer. That it has not, indicates either an obvious talent shortfall or dispensability of the CDS's post, or a combination of the two, he declared. This latter aspect of superfluity, he added, would obviously be noted by the three service chiefs and could negatively determine their subsequent dealings with the higher rank CDS.
A cross-section of veterans, serving officers and defence analysts further asserted that the prospect of promoting a retired three-star officer as CDS was 'distressing and awkward' and difficult, if not impossible, for the top serving military brass to truly accept.
They warned that in the event of such an officer being appointed CDS, by adding that extra star to his collar or additional strip to his shoulders or wrists would only trigger resentments that would manifest themselves in myriad adversarial ways in day-to-day functioning.
But additional complications, asserted a two-star Indian Air Force (IAF) officer, could arise in the event of the government selecting a serving three-star officer to become the CDS. Arbitrarily promoting him to the four-star CDS post, he argued, would involve adopting procedures which disregarded established service promotion norms, besides justifiably prompting charges of the Bharatiya Janata Party-led government 'politicising' military appointments. Besides, as former Army Chief of Staff General V.P. Malik observed recently in an interview with The Wire, the incumbent service chiefs would outrank such a CDS, even though as head of the Chairman Chiefs of Staff Committee he would be their superior, or primus inter pares – or first amongst equals – in a bizarre command-and-control comedy of errors.
Meanwhile, procrastination over selecting the CDS had silenced all speculation over it in the services 'langar', replaced by unconcern bordering on apathy. Gone was the breathless conjecture amongst senior officers, feverishly prevalent earlier this year, of listing the frontrunners for the CDS's post and specifying the minutiae of his 'closeness' to the government. This, in turn, highlighted the near-complete politicisation of the armed forces, which its officers so vociferously abjured and railed against. "It's more than obvious that the next CDS will be one whose views and outlook are aligned with those of the government," said the two-star Indian Army officer quoted earlier. Such a symbiosis, he added, had emerged during eight years of BJP rule, as a prerequisite for the CDS's job.
Even social media, earlier frenetically toxic over the CDS issue, had become uncharacteristically silent on the matter in recent weeks. Numerous netizens anticipated that even in the event of this appointment being imminently announced, the interim delay had 'anaesthetised' them to the affair. "The moment of speculation and suspense over the CDS has passed," said a former one-star Indian Army officer.
Operationally too, not having a CDS, according to several veterans, was 'undesirable' at a time when India faced innumerable security challenges.
The military stand-off with China in Ladakh persisted, while in recent days another showdown, with the potential to rapidly worsen, had emerged in India's north-east with satellite imagery revealing that Beijing was constructing its sixth bespoke village in Bhutan adjoining the Doklam/Dong Lang tri-junction area. This was the spot of an earlier, 73-day faceoff between the armies of the neighbouring nuclear rivals that ended on 28 August 2017. Besides, the threat along the Line of Control with Pakistan persevered, with the steady influx of armed insurgents into Kashmir, resulting in a spate of firefights in which several Indian security personnel, including army soldiers, died in recent weeks.
Internally, too a CDS's presence was awaited to optimise scarce military resources through enhanced jointness between the three services by fast-tracking the initiative launched by General Rawat in 2020, and one that was scheduled for completion later this year. The operationalisation of the tri-services special forces, cyberspace and space commands to manage emerging security threats too awaited closure. As did resolving the prevailing impediment spawned by service-specific interpretation of the nebulously defined National Security and National Defence Policy which were further underscored by the absence of political direction from the Cabinet Committee on Security headed by Prime Minister Narendra Modi.
Operational duplication, like the response to the 2020 Chinese aggression in Ladakh, the lack of uniform and real-time intelligence and contingency planning on an escalatory response ladder straddling land, air, maritime, space and even strategic realms, remained a work in progress for the CDS to conclude. The CDS also needed to resolve the battlefield resource shortfall, especially of aerial assets and other force multipliers, ensure optimal utilisation of diminishing annual defence outlays and further intra- and inter-service network centric warfare.
More immediately, the CDS was required to mentor the highly publicised Atmanirbhar Bharat scheme of India aiming to secure self-reliance in military equipment by slashing materiel imports and to deftly handle the contentious Agnipath scheme of recruiting personnel below officer rank into the military, which had recently provoked violent countrywide protests.
In short, there is no avoidance for the delay in appointing a CDS. But obviously, the government thinks otherwise.