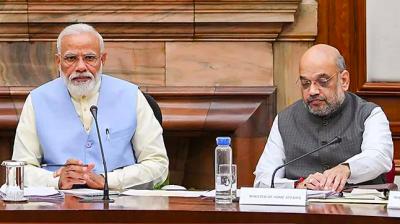 Chandigarh: The appointment of India's second Chief of Defence Staff is progressing unhurriedly, nearly six months after General Bipin Rawat, the first incumbent, died in a helicopter crash in Tamil Nadu last December.
Since then, the government, for its part has maintained absolute radio silence over the new CDS's nomination, and this reticence has progressively been complemented by total ignorance of the matter in senior military and security circles.
Even 'informed' speculation, rife for several months in South Block and Sena Bhawan corridors over the impending CDS's appointment, has ground to a halt. Complex conspiracy theories and conjecture had, in recent weeks, given way to puzzlement over governmental apathy in filling India's topmost military position at a juncture when it was most critically needed.
In short, the burning issue of a new CDS has simply vanished even from public and media debate, a state of affairs which ironically was in inverse proportion to the clamour and breathlessness it had generated when General Rawat was appointed to the job in December 2019, a day before retiring as the Chief of Army Staff.
Such seeming governmental indifference in the absence of any official viewpoint to the contrary has, in turn, fuelled assumption amongst several senior retired and serving service officers, along with defence and media analysts that Prime Minister Narendra Modi's Bharatiya Janata Party-administration had no intent of appointing a CDS in a hurry, if at all. From this delay, some have inferred that the governments raison d'etre appeared to be that having done without a CDS for nearly six months after General Rawat's demise, the country could well afford to keep the position unoccupied for an extended period.
Others highlighted the starker reality, with even graver concerns and even weightier consequences: that despite seeking General Rawat's successor, the government had simply been unable to shortlist any officer from either of the three services with the capability, capacity and chutzpah necessary for becoming the CDS.
Consequently, the government according to recent media reports quoting unnamed official sources, had widened its choice to include retired service chiefs and former three-star officers who had served as commanders-in-chief in its hunt for a putative CDS.
"Expanding the talent pool to confirm the CDS's appointment is indicative of the grim fact that the government finds no serving officer qualified to be promoted" said a former two-star Indian Army officer. "If so, it then calls into question the promotion policies of all the three services and one which eventually impinges on the country's higher defence management," he said, declining to be identified.
Many service officers also unanimously agreed that appointing either a former service chief or worse, a retired three-star commander-in-chief to the four-star CDS post in India's rigidly hierarchical armed forces, would simply be 'problematic', provoking avoidable resentments in increasingly turbulent and uncertain times.
"In a highly status-conscious military, where upward mobility is ordained by seniority and one in which pensioners are cynically considered 'has-been's, it's going to be difficult if a retiree is foisted upon the forces by the government as the next CDS," said a former three-star Army officer. Such an appointment, he added, could well end up impeding the CDS's functioning and defeating the purpose of the post in which the CDS was deemed the 'first amongst equals' alongside the three other service chiefs.
But pursuing this logic of forswearing the possibility of considering a retired officer to be appointed the CDS, oddly reduced the choice to the three serving chiefs of staff – General Manoj Pande, Air Chief Marshal Vivek Ram Chaudhari and Admiral R. Hari Kumar. However, once again, it appeared that with the government not having elevated either of these officers to the CDS post so far, such a possibility was obviated and, paradoxically brought the choice right back to appointing a retired officer with all the inherent multitudinous complications.
Meanwhile, the 'fauji langar' or bush telegraph indicated that one of the possible reasons behind the delay in announcing a CDS was the governments rethink on his overall remit and myriad responsibilities, which under General Rawat had included secretaryship of the newly created Department of Military Affairs or DMA.
Alongside, General Rawat was also the Permanent Chairman of the Chiefs of Staff Committee, military advisor to the defence minister and to the tri-service Nuclear Command Authority and member of the Defence Acquisition Council that oversees materiel procurements. He was also part of the Defence Planning Committee responsible for defining India's military and security policies and tasked with vindicating other multi-service responsibilities, prioritising procurements and effecting fiscal discipline, amongst other duties.
The 'langar' speculated that the government was considering divesting the CDS of the post of Secretary, DMA, in order to relieve him of a bureaucratic and procedural workload, thereby enabling the officer to concentrate on military matters. In his stead, the three-star head of the tri-service Integrated Defence Staff, created in 2001-02, could become Secretary, DMA, but report directly to the CDS.
Nevertheless, as a senior Indian Navy officer pointed out, these supposed procedural changes were trivial and easily and swiftly achievable through internal directives and could, in no way, be considered an alibi for the delay in appointing a CDS. "The drawback," he asserted, "is attributable entirely to the lack of a suitable candidate". The matter begins and ends there, he categorically added, requesting anonymity for speaking on a sensitive subject.
Meanwhile, all three services are believed to have finalised their reports on creating theatre commands, which they are to imminently submit to the DMA headed by a three-star army officer in the rank of Additional Secretary. These analyses had been requisitioned by General Rawat in late 2021 with the eventual aim of instituting five Integrated Theatre Commands – down from 17 individual service commands at present – to operationally combine India's tri-service manpower and assets by 2023 in order to jointly manage future conflicts.
Once these reports have been jointly assessed overt the next few months, the DMA is expected to appoint a group of 4-5 officers from the respective services to fast track the modalities of formulating the Integrated Theatre Commands but, as some senior officers pointed out, without a CDS this task would not only remain stillborn, but would also be delayed.
Perhaps, the unhurried haste with which the CDS appointment is being pursued will by then have fructified, confirmed by the Appointments Committee of the Cabinet, which since 2016 comprises just two members: Prime Minister Narendra Modi and Union home minister Amit Shah. Earlier, the minister heading the concerned department – in this instance, the Ministry of Defence – too was part of the ACC, but that is no longer the case.
Official sources told The Wire that National Security Advisor Ajit Doval too was closely involved in the CDS's selection, as in due course he would have to work closely with him on multiple security issues.