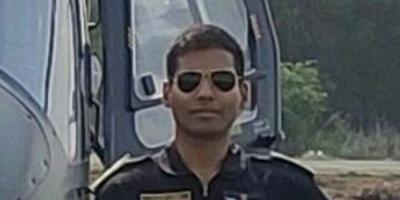 New Delhi: The mortal remains of Army Captain Jayant Joshi, whose helicopter had crashed into the Ranjit Sagar lake in Pathankot in Jammu on August 3, were on Sunday recovered from the bed of the dam reservoir by Navy divers.
Disclosing the recovery, which marked the end of one of the longest and most arduous search operations by the Navy, as also the Army and National Disaster Response Force, the PRO (Defence) said: "Persistent efforts by Army and Navy for 75 days that were working day and night to recover the body of Capt Jayant Joshi, second pilot of the helicopter which crashed in Ranjit Sagar Dam on August 3 has finally succeeded. Body has been recovered from the lake bed."
The Western Command of the Indian Army also tweeted about Operation Nistar, which involved the use of sophisticated equipment.
1 of 2#OperationNistar. 75 days of relentless efforts by Army & Navy resulted in the retrieval of mortal remains of Capt Jayant Joshi from Ranjit Sagar Reservoir on 17 Oct 2021@adgpi

— Western Command – Indian Army (@westerncomd_IA) October 17, 2021
It added that, "Underwater operations of more than 600 hours and 300 dives employing best of the equipment to search the Ranjit Sagar reservoir ended today providing solace to the bereaved family. The operation exemplifies the military ethos of never leaving any comrade behind."
The Wire had recently reported how Captain's Jayant's father, Harish Joshi, had twice petitioned the President of India to continue with the search operation after he got feelers that the authorities were planning to call it off. While he had made the first appeal on September 19, the second one was made more recently on October 11.
Joshi had stated in his recent appeal that the Navy authorities were confident of recovering his son's remains.
Jayant Joshi was one of the two pilots of an Advanced Light Helicopter-Weapon Systems Integrated (ALH-WSI) which had crashed into the Ranjit Sagar Lake. While the remains of the other pilot, Lt Col. A.S. Bath, were recovered on the evening of August 15, it took much longer to find Jayant.
For the Navy, as per Harish Joshi, this was a first-of-its-kind operation as it had to work hard to locate the body at a depth of 70-80 metres and that too in moving waters which had a lot of silt and consequently poor visibility.
In view of the challenge, Joshi had repeatedly urged that the foreign teams and even more specialised equipment be commissioned for the operation. He had also refused to perform the last rites of his son till his remains were recovered.